Relatable News: OrthoKnow Market Update
This month, OrthoKnow mentioned Relatable Healthcare in their publication Strategic Insights into the Orthopedic Industry 2019: Capitalize on Opportunities in the Emerging Outpatient Surgery Market.
To download a PDF copy of Strategic Insights into the Orthopedic Industry 2019, please click here.
Relatable's Chief Strategy Officer, Clark Charlton, contributed to the article:
Mr. Charlton leads strategy for Relatable Healthcare, a business intelligence firm focused on the outpatient care space. Their platform objectively compares medical devices, analyzes usage and offers intelligent recommendations on ways to optimize clinical and economic decisions to best treat patients. Medical device companies and ASCs need to consider the following to align on price points/ reimbursements, in many cases lower than inpatient settings for implants:
Pursue regional or national pricing contracts to increase purchase volume (ASC management companies)

Drive high compliance contracts through supplier standardization (ASC management companies)

Reduce sales representative service models that require O.R. staff to be self-sufficient to support procedures
OrthoKnow's market update forecasts outpatient orthopedic volumes through 2023, and took a deeper look at the projected 200% increase in hip and knee replacements specifically. Additional forecasts are presented for inpatient and outpatient spine through 2023, with a notable 56% growth in fusion surgeries.
The next section of the update focuses on place-of-service considerations for outpatient vs inpatient settings, CMS impacts on ASC trends, device company considerations, and patient perspectives. OrthoKnow reviews the hip replacement market by analyzing sales performance, market share, revenue, and percentage growth of the top 10 manufacturers plus all others. Finally, the review offers insights into the future of anterior approaches in hip replacement.
To download a full PDF copy of Strategic Insights into the Orthopedic Industry 2019 by Orthoknow, please click here!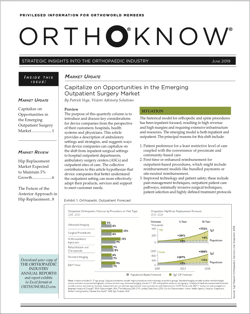 Special thanks to OrthoWorld for permission to republish.
---
Relatable Healthcare's goal is to bring transparency to medical device purchasing and usage through a proprietary software platform providing actionable business intelligence. Our software assists with data standardization, analytics, and insight cultivation to drive the highest quality care at the lowest possible cost in every healthcare facility. Relatable arms providers with answers to the questions patients have a right to know; is there an alternative device in use? How long has the device been on the market? What was the approval pathway? And much more.
If you are curious about Relatable, let us know through the contact button below. We'll set up a time to talk and show you a demo.