John Oliver & medical devices
Did you catch this past Sunday's Last Week Tonight with John Oliver on HBO?
His main story highlighted issues concerning the medical device industry. Here is a recap of John Oliver's report and some additional thoughts about how Relatable helps solve the problem:
---
Mr. Oliver began by offering perspective regarding the sheer size of the US medical device industry and how many Americans it directly impacts:
"The medical device industry encompasses 156 billion dollars in market size and affects 32 million Americans today who have at least one device implanted in their body… the robot revolution has been inside us all along!"
He next introduces the issue and main topic of his report:
"More than 80,000 deaths and 1.7 million injuries possibly linked to medical devices were reported to the FDA in the past decade."
He explains that the reason for these constant issues, lawsuits, and medical recalls is a lack of clinical testing of the devices prior to approval for implantation. Most patients and physicians assume that FDA-controlled clinical testing has been properly performed in humans before receiving approval, but that is consistently false. Surgeons are often implanting devices that have not been tested, or best case - been tested in animals.
Despite so many Americans (32 million) being directly affected by the industry, the enormous size of major medical device companies has garnered immense power and lobbying ability. Regulation changes and revisions are rarely considered without the blessing of manufacturers, resulting in outdated legislation and a lack of oversight for device companies that can negatively affect patients. John Oliver focused on the 510 K pathway to illustrate this problem.
In the 1970's congress passed legislation granting the FDA authority to approve and regulate medical devices. The FDA instituted a policy called the "510 K pathway" to streamline and facilitate medical devices rapidly becoming available to patients. The idea of 510 K is to prevent the stifling of innovation by quickly clearing devices for use that are "substantially similar" to previously cleared devices. Through this channel, device manufacturers can bring products to market without rigorous, time consuming, and costly clinical trials. When agreed upon, the 510 K pathway was thought to apply very narrowly to a small number of products.
Growth of the medical device industry and the number of products available has exploded since the 1970s. It is now estimated that "more than 80% of medical devices are approved through the 510 K pathway, including 400 implanted medical devices each year." These devices are FDA Cleared not FDA Approved, a very critical distinction meaning they have not undergone human testing. In other words, what is "substantially similar" has become increasingly murky with many generations, models, and iterations of devices receiving approval simply because their design was originally based on a product approved in years prior.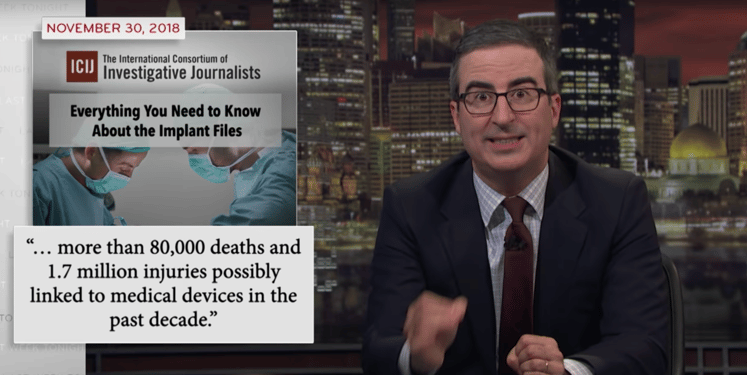 Due to this system, patients in the US have become clinical trial guinea pigs (without explicit consent) for medical devices that have never been tested but are being implanted. Over the years, the misunderstanding and misuse of the FDA Cleared vs FDA Approved distinction has resulted in some horrific complications. The Institute of Medicine of the National Academies called for an end to the 510 K pathway, most recently in 2011, asking instead for a new framework based on sound science. Each time this is proposed the medical device industry has lobbied extensively and managed to maintain the status quo.
According to John Oliver, a study in the New England Journal of Medicine estimated less than 0.5% of medical device failures are reported to the FDA. This means that the estimated 1.7 million injuries due to medical devices in the last decade could be a very conservative number. As Mr. Oliver points out, many patients are finding out about device failures through television ads about class-action lawsuits or even through Facebook groups. In response to these concerns the FDA and other experts suggest patients be their own advocates, researching devices and asking questions like "is there an alternative", "how long has this device been on the market", and "can the device be removed if something goes wrong?" Asking patients to do their own medical research is a tall order further complicated by a lack of public data and information regarding most medical devices.
---
Relatable Healthcare's goal is to bring transparency to medical device purchasing and usage through a proprietary software platform providing actionable business intelligence. The Relatable software assists with data standardization, analytics, and insight cultivation to drive the highest quality care at the lowest possible cost in every healthcare facility.
Relatable's Product Data Catalog classifies implantable medical devices based on specific, structured taxonomies that allow for automated cross-referencing and comparisons to similar products. Relatable eliminates confusing trademarks, system names, and long descriptions in order to provide objective data on each medical device. In addition to compiling attributes, surgical techniques, pictures, and other relevant device data, the Relatable platform provides in-depth analytical reporting assisting healthcare centers identify opportunities for clinical and economic improvement. Relatable provides implantable device price-variance and conversion recommendations down to the individual surgeon through it's Guided Purchase Solution to help physicians, facilities, and patients save money and offer the best product. Through data standardization and transparency, Relatable helps educate facilities and surgeons about which medical devices offer the most value for their patients.
Relatable arms providers with answers to the questions patients have a right to know; is there an alternative, how long has the device been on the market, what was the approval pathway, and much more. New legislation that hinders the 501 K pathway and secures consistent clinical testing seems like a long shot, so Relatable uses the power of big data and analytics to improve a system affecting so many Americans every day.
---
Thank you to John Oliver for shedding light on this issue that is so important to us at Relatable Healthcare. If you would like to learn more, please view the episode of Last Week Tonight with John Oliver on HBO from Sunday, June 2nd. His story closely resembles the Netflix Documentary The Bleeding Edge, which provides a deeper dive into the medical device industry.
If you are curious about Relatable and what we do, let us know through the contact form below. We'll set up a time to talk and show you a demo.